Hello My Lovelies :)
Hope you are all well. So, this is quite an exciting post for me to write for you all. I was recently ccontacted by Westifield London Shopping Centre to collaborate with them. I was super excited when they contacted me because i absolutely love shopping there and have even been to their Malls across the world including Los Angeles.
They have been absolutely amazing to work with. I was meant to go down to Westfield last weekend, but unfortunately we all got hit by snow and it put a halt in my plans, so i was unable to get down. We were chatting througout the week and re-sceduled everthing for the weekend just gone and i was able to get down and do some shoppingggg :D
So, my 1st Challenge was to do a little bargain hunting :D who doesn't like hunting down a good ol' bargain ;)
So they kindly gave me a voucher to spend on anything i wanted throughout the store. So, i went down to Westfield Sunday morning super early as i had to meet with them and pick up my voucher. We were literally walking around the shopping centre for a good hour or so until all the shops opened, but it gave me time to think about where i wanted to have a browse and anything else i needed to pick up. Which was fab because i remembered to pick up some of the new 'Rimmel Apaocalips' :D
Now, you could say i cheated a little bit because i did spend a little over the amount that they gave me, but trust me, this was a bargain that you couldn't refuse. This little beautie was sitting there waiting for me as if it was fate :D
So, your probably all wondering what i picked up :) We decided to have a little wander thtrough the Miachel Kors store...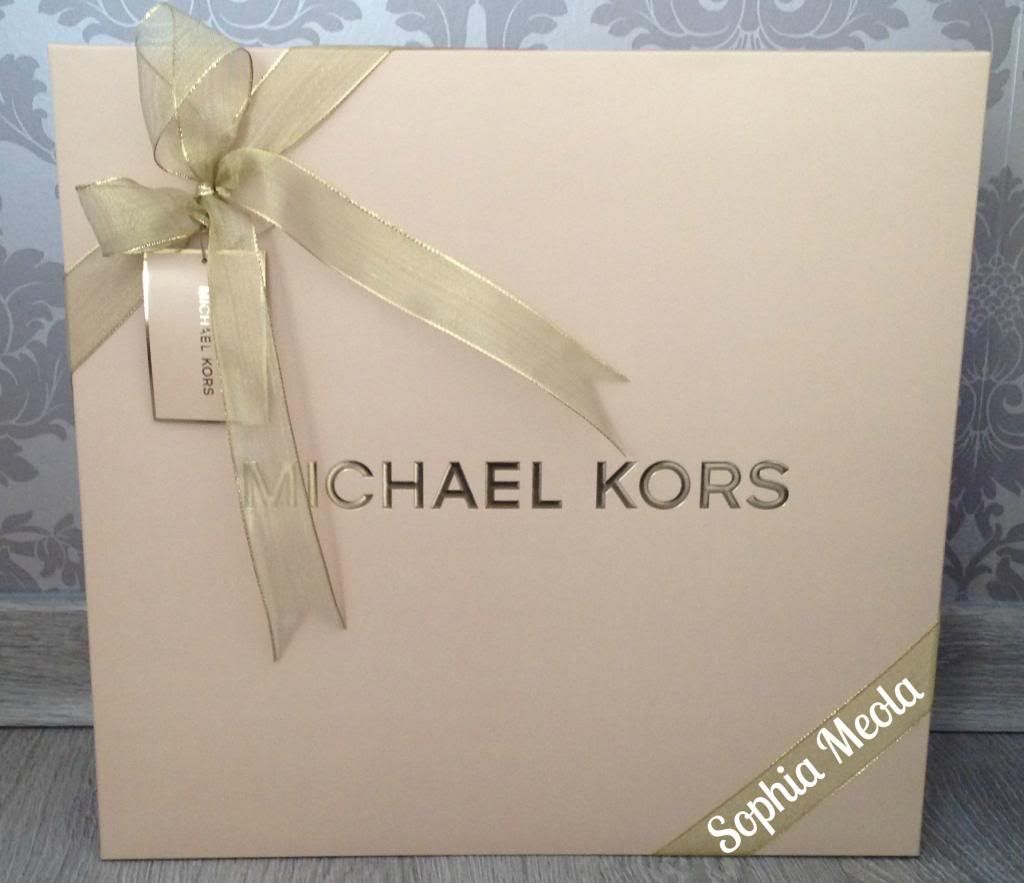 We were served by the nicest sales assistant ever, she got to know us and found out what we were looking for and she showed us this particular handbag and i instantly fell in love with it :)
Michael Kors - Layton Cream Hobo With Gold Hardware
This little beautie is the 'Michael Kors Layton Cream Hobo With Gold Hardware' and i think it'sabsolutely stunning! The colour is very unique and fresh and i love the gold hardware against it, it's something different to what i already own in my collection. I adore the Hobo design, all of the storage compartments inside and on the outside of the bag and not forgetting the stunning MK charm on the bag. Another exciting aspect is the straps, they can be transformed into 3 different levels depending on how you like to hold your bag.
So, I stated earlier this was an amazing bargain that i could turn away from. Originally the bag was £310 but i picked it up for £94!! My face literally dropped when the sales assistant told me, i actually couldn't believe it haha Thats a whopping saving of £216 which i think is absolutely amazing!
So thats what i got up to last Sunday :) and now i have a fabulous little bargain which i can add to my handbag collection :D I hope you enjoyed reading this post, please let me know what you think about the bag :D